In order to complete any purchase with Coinify, you must have completed your identity verification process (KYC), either with us or through our partners. If you have not verified your identity you'll be asked to do so when you start a trade.
Step 1.
Select the currency and the amount for which you want to buy.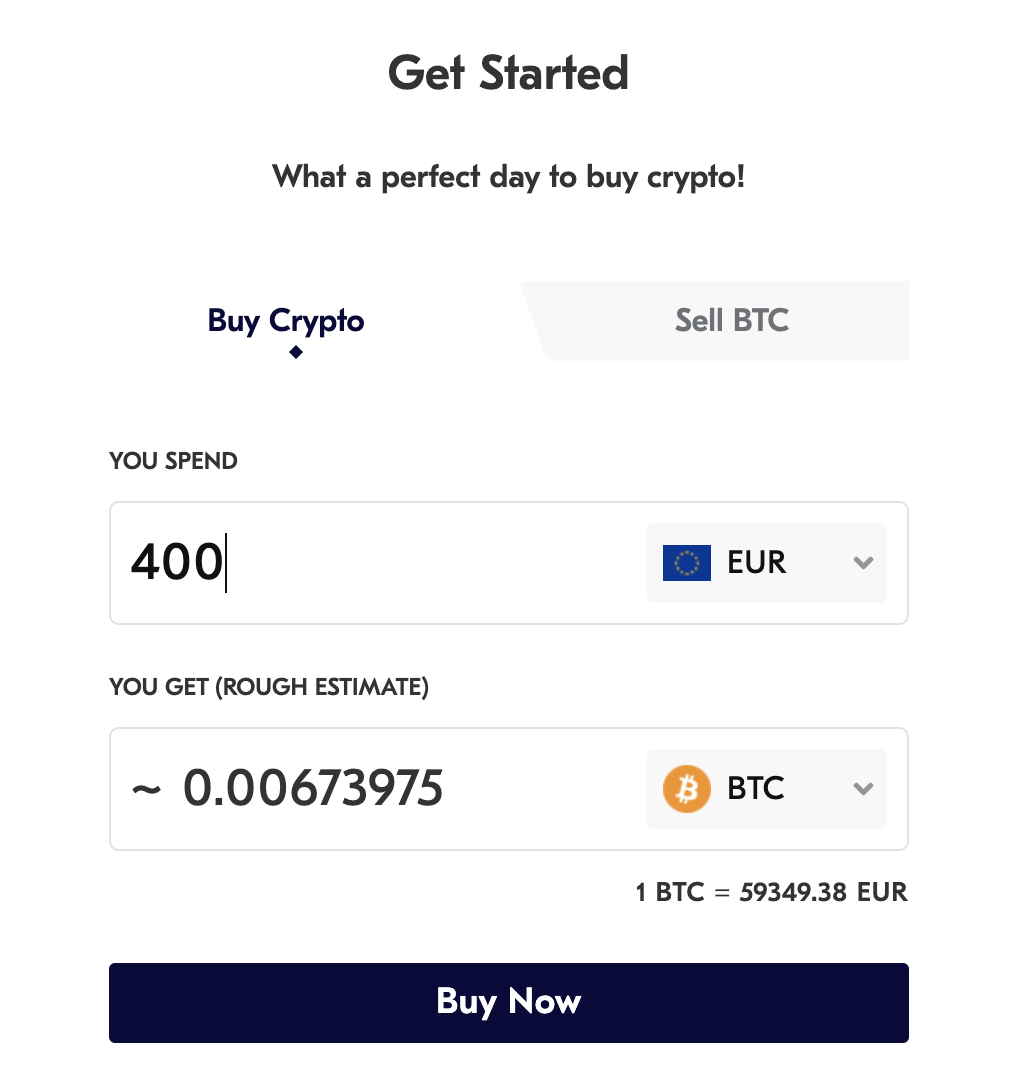 Step 2.
Confirm your details and enter a valid wallet address.
Important: Please ensure you input a wallet address which you have total control over, as crypto transactions cannot be reversed. If you input an address which you don't control, your cryptocurrency will be sent to it regardless. You must also ensure your wallet supports the cryptocurrency you are purchasing, as if it does not you can potentially lose the funds.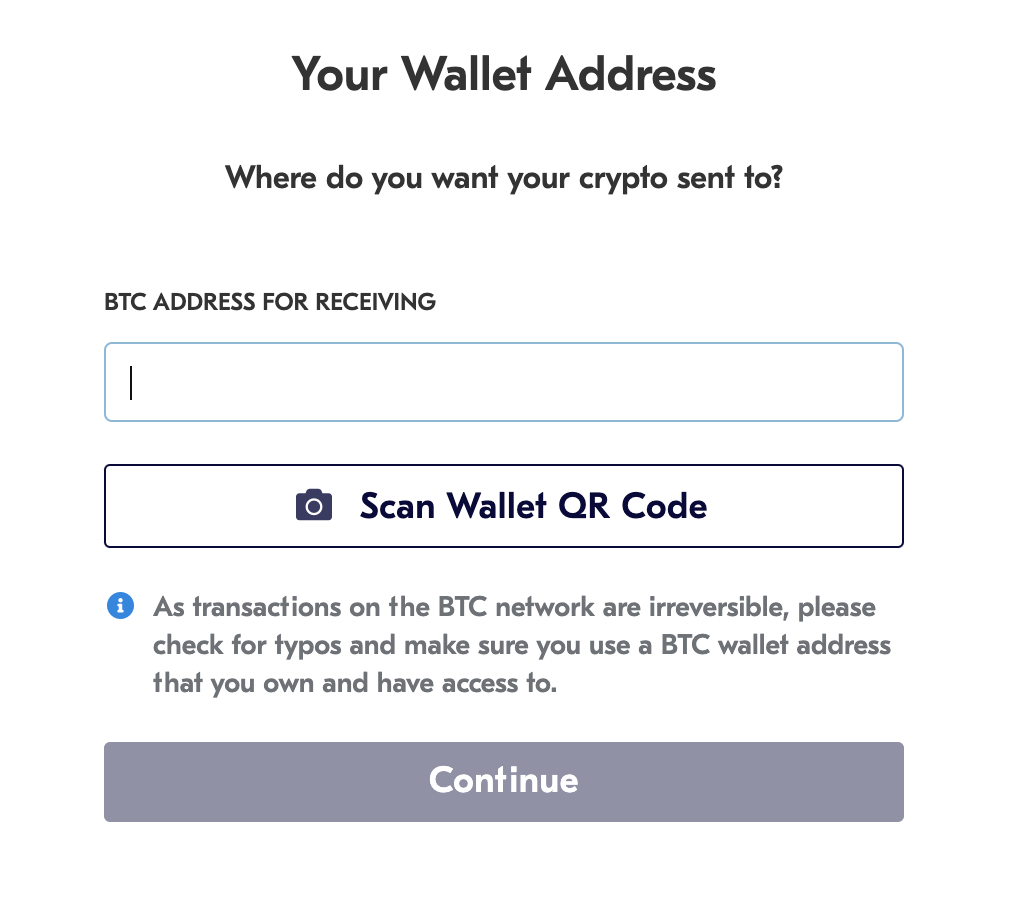 Step 3.
Click 'Buy' Now and select Bank Transfer as the payment method.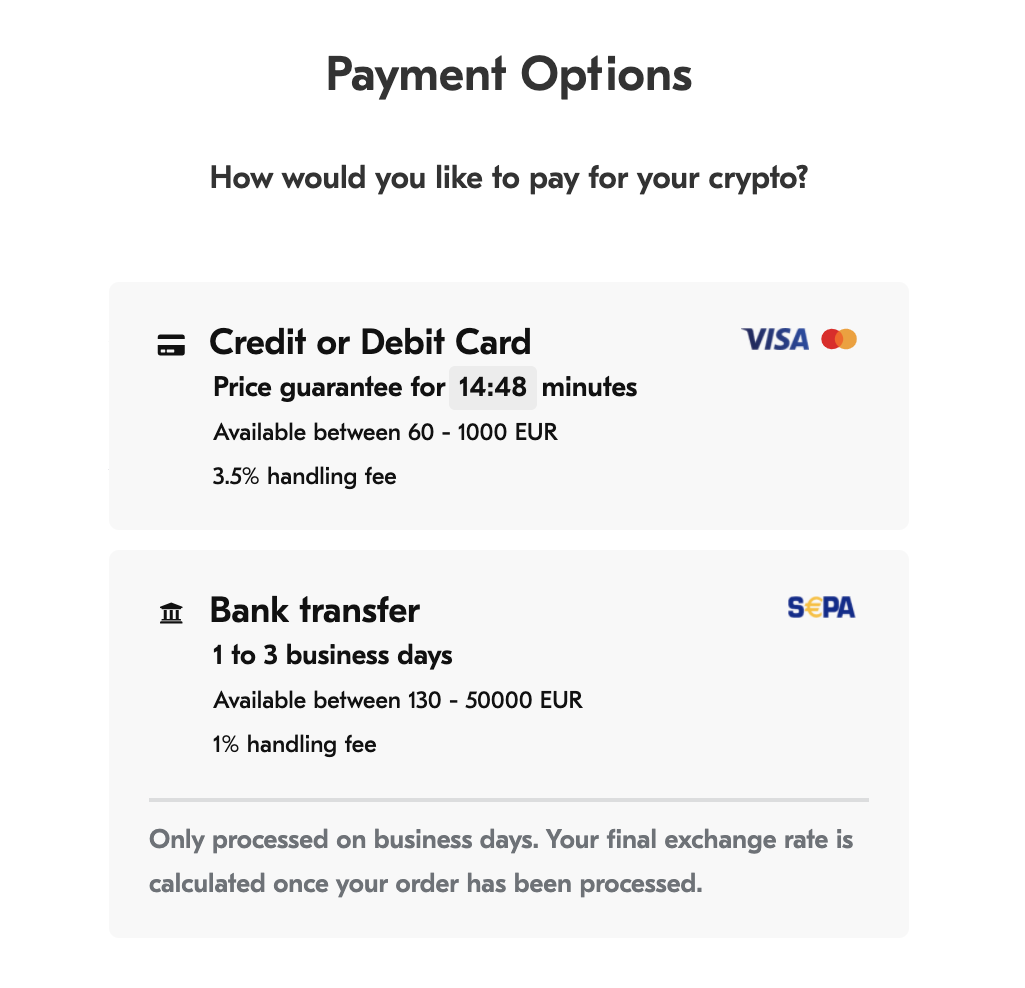 Step 4.
Here you can see a summary of your bank trade.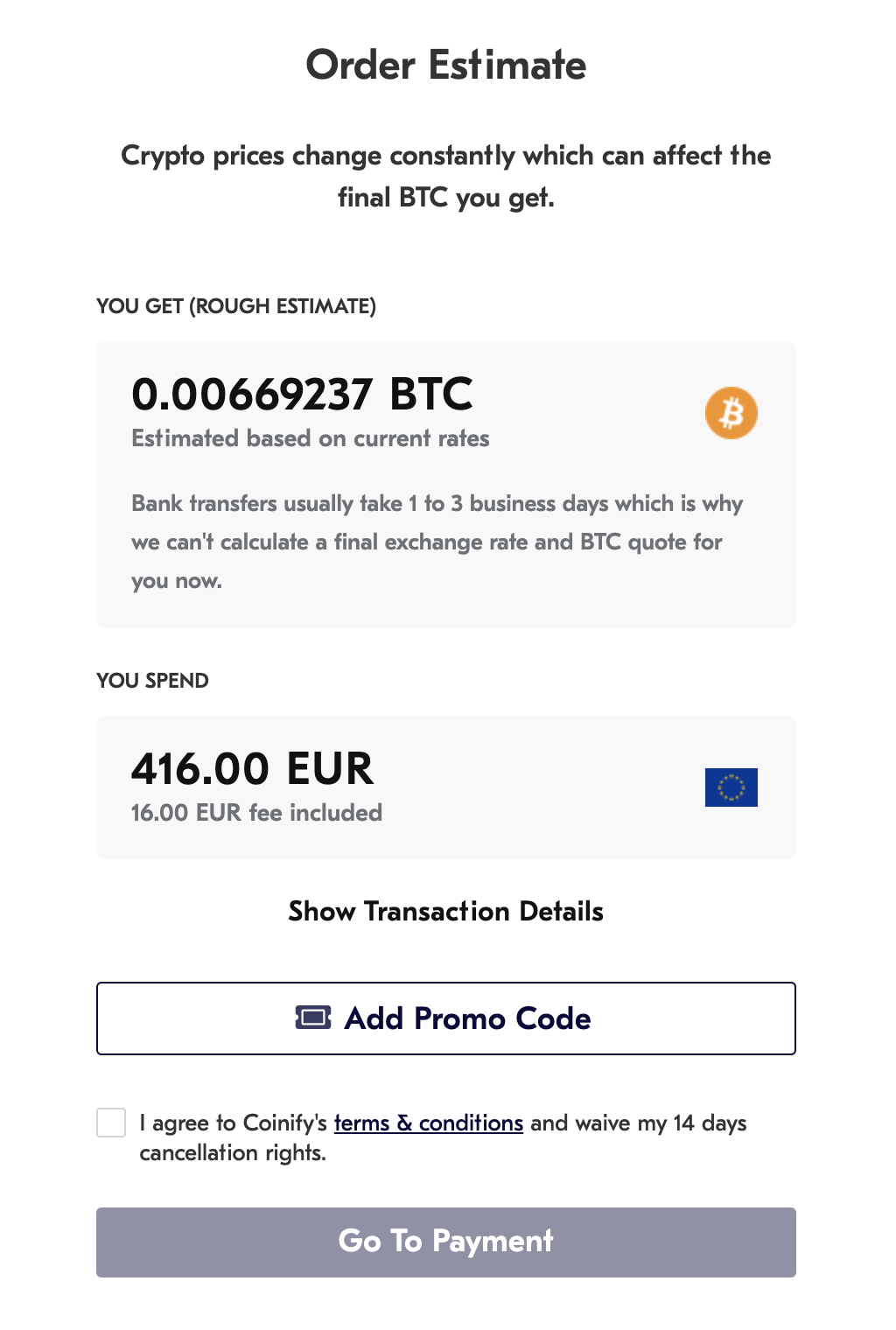 Click on 'Show Transaction Details' to see more information about your transaction such as indicative exchange rate, fees and wallet address where cryptocurrency will be delivered to.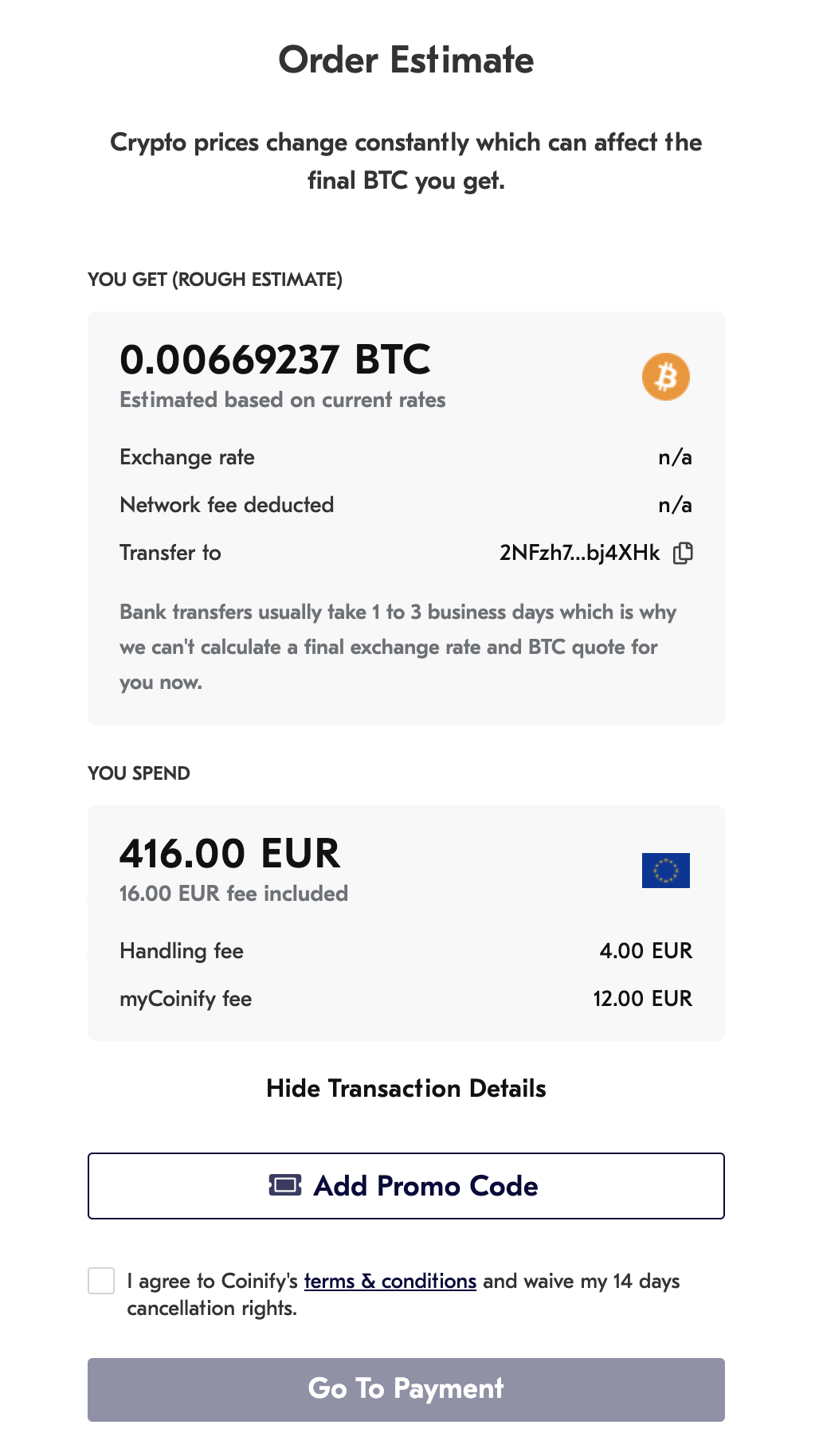 Step 5.
Once you have submitted your trade by clicking Go To Payment, you will be shown the account details where you should send your bank transfer. You will also receive a confirmation email with these details.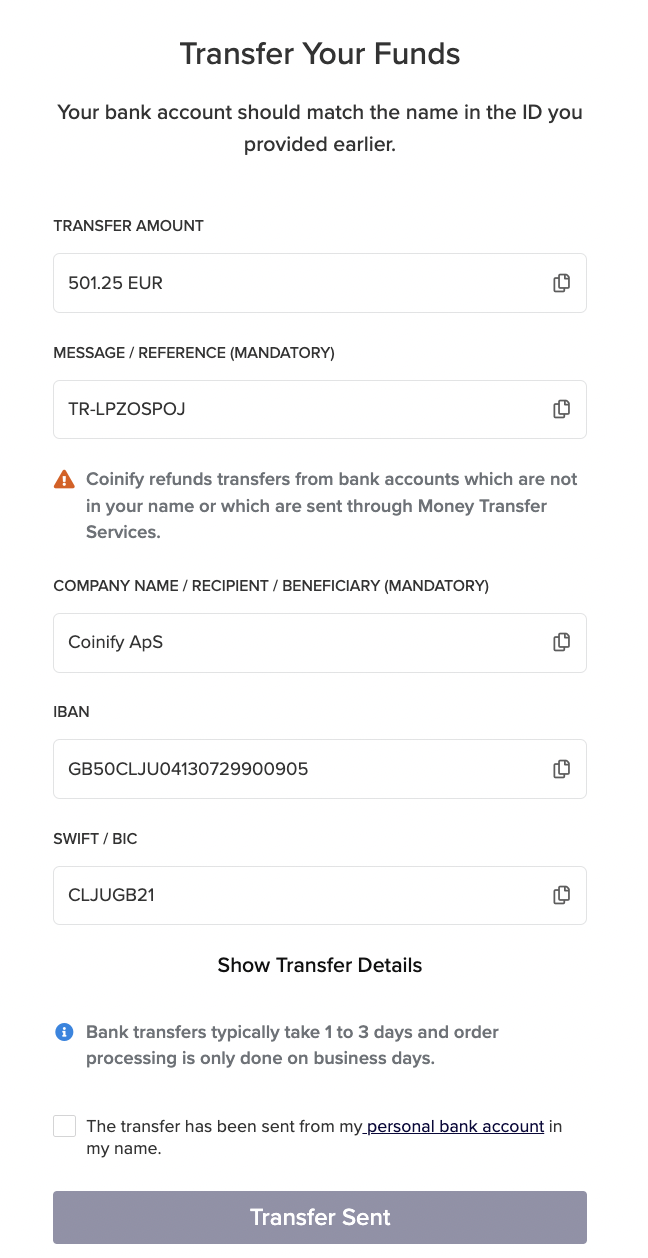 Step 6.
Send a bank transfer to the bank account details provided to you in the trade. Please keep in mind that, depending on the currency you're paying in, the bank transfer can reach us in 0 - 3 bank days.

Here's a few things to remember when sending a bank transfer to Coinify:
Include your Reference Text as a message to the receiver of the bank transfer so we can easily and quickly link your transfer to your trade.
Include Coinify Aps in the recipient field of the bank transfer, otherwise trade will be cancelled and funds will be automatically returned back to your account.
Send only one bank transfer per trade; it's not possible to combine several transfers for one trade.
We will refund your bank transfer if it's sent from a bank account which is not in your name. The fee for such a refund is 20 EUR. This also covers bank transfers sent from a spouse's account, an account of a company of which you are the legal owner or a Money Transfer Service.
Step 6.
You will be notified by email when we receive your bank transfer. After this, we will perform the checks necessary to process your trade. Once your trade is processed, the exchange rate is locked, your final cryptocurrency amount is calculated and we prepare to deliver the funds to your wallet address.